About The Personalized Holy Cards Family
The Family Behind PersonalizedHolyCards.com
Thank you for visiting www.PersonalizedHolyCards.com. We hope to provide you with the highest quality custom printed holy cards meant for special occasions such as weddings, anniversaries, funerals, first communions, confirmations, baptisms, ordinations, etc...
We are the Bond Family:
Peter & Cathy, Gabriel, Eve, Joseph, Patrick, Blaise, Anastasia, Mary-Joy, Chiara, Emma & Ella
Here's our dear friend Sister Mariana McGlynn holding one of the Lil' Bonds...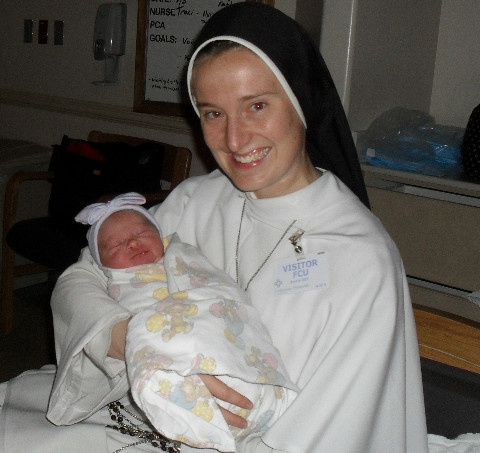 Our ministry involvement has included pro-life work, prison ministry, adult catechesis, student ministry, Eucharistic adoration, daily Mass and rosary making. Our family also ran the local non-profit Catholic radio station. We operate a gourmet honey venture to raise funds for the radio station and we have a pecan farm/business that helps fund our local Catholic High School. Our latest venture, Regina Cigars, helps support a Catholic orphanage in Honduras.
Mom is an avid runner, Gabriel keeps us praying now that he is out ofcollege, Eve just finished nursing school, Joseph participates in several sports, Patrick loves to fish, Blaise is everyone's little buddy, Anastasia is our "Mini-Mom", Mary-Joy is into everything, Chiara is our ballet dancer and Emma & Ella bring smiles wherever they go. Dad just likes to watch his family and soak it all in; he's also been known to enjoy a good cigar on special occasions or whenever he can go fishing, hunting or skeet shooting.
~~~~~~~~~~~~~~~~~~~~~~
Our
Catholic prayer card / holy card ministry
came about by chance (better known as God's loving providence). Peter has been in the printing business for 32 years and about 21 years ago wrote his first prayer. Well you guessed it, he had a few copies printed and the demand for more increased, so more holy cards were printed and new ones written as well. What started off by leaving a handful of prayer cards in the back of the church one day has now taken off to send tens of millions of holy cards all over the world. We currently have our Catholic holy cards on six (6) continents and we have around 900+ different designs and well over 5 million cards on our shelves.
We are happy to offer you the opportunity to create your own special items on this custom holy card site. We have distribute millions of our Catholic Holy Cards free of charge to the mission fields of Africa, Asia, South America and right here in the U.S. We also supply our Catholic Prayer Cards to our soldiers overseas, nursing homes, prisons, etc... The proceeds from our online orders help us cover the expenses of printing and postage. Since we can buy printing at wholesale rates, for every custom prayer card you order, we will be able to send many more of our stock holy cards to the missions. You will be pleased with the quality of our materials and will be blessing many more people around the globe by your purchases.
Thank you again for joining with our family to
"Help change the world one prayer card at a time!"
All Glory be to the Father, Son and Holy Spirit!
Ever Virgin Mary and glorious St. Joseph, Pray for us!
The Bond Family
FOR RUSH ORDERS EMAIL US AT: personalizedholycards@gmail.com
OR TEXT US AT 850-386-8922